The staff in our accommodation services provide specialist support for those fleeing domestic abuse, addressing individuals' practical and emotional needs.
As well as providing safety, our team provides support in matters relating to finances, welfare benefits, housing—especially move-on accommodation—legal matters, immigration issues, health, education, training and employment.
What is a refuge?
A refuge is a safe house where women or men and their children, who are experiencing domestic abuse, can stay on a temporary basis. The Elm Foundation has four refuges – three for women and one dedicated to men, offering a total of 25 family bed spaces.
The aim of refuge accommodation is to empower residents through support and advice so that they can successfully move on to independent living, free from abuse.
Who is a refuge for?
Any woman or man fleeing domestic abuse can go into a refuge at any time, regardless of their marital status, race, religion, sexuality, age, nationality, disability, or whether or not they have children.
A risk assessment will need to be carried out to ensure the refuge they are going to is secure and a 'safe' distance away from any areas where their abuser has connections.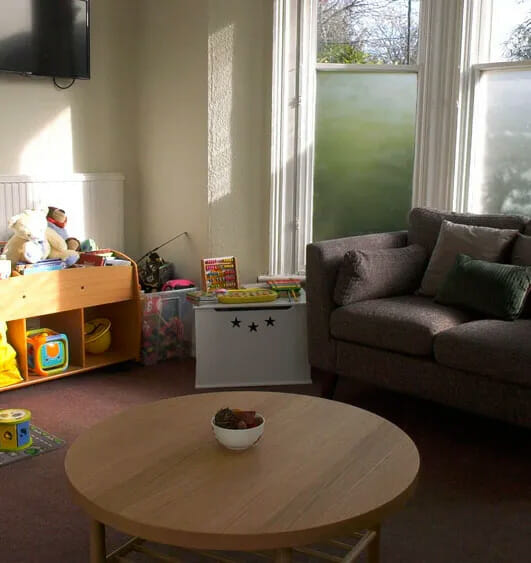 What is a refuge like?
The Elm Foundation's refuge accommodation provides family rooms. One of our refuges is adapted for disabled access with ground floor bedrooms and en-suite wet rooms. Some of our accommodation offers en-suite bathrooms whilst others have communal facilities.
They all have living rooms, kitchens, dining rooms and playrooms, which are shared with other refuge residents. There are no expectations placed on residents to use the communal facilities – you can be as self-contained or as sociable as you want to be.
Residents are expected to cook and clean for themselves and their children. We also have a rota for the cleaning of communal areas.
Residents are required to sign a licence agreement, which includes rules such as payment of rent, confidentiality and the use of substances, to ensure the safety of all.
How can I be accepted into a refuge?
You can call Derbyshire Domestic Abuse Helpline number on 08000 198 668, or the Freephone National 24-hour Domestic Violence Helpline on 0808 2000 247. You will be supported to leave your current home safely and refuge accommodation will be found for you.
You should be able to go into refuge on the same day you complete the referral process, which consists of providing your name, the ages of any children, a safe contact number, and details about the domestic abuse. Refuge space can't usually be booked in advance and it isn't always possible to find available accommodation in an area of your choice.
Call us for help
Other refuge FAQs
What if I have arrived with nothing?

Sometimes this is the case, but don't worry, we will supply you with the basics.

When you arrive, your room will have a bed ready for you to rest, with pillow and duvet. There will be toiletries in the bathroom and a variety of tinned food items, so you have something to eat.

We can also help with Food Bank vouchers and Food for Families where you can get fresh items.

If I leave a refuge, can I go back?

If you choose to leave a refuge and your circumstances in the future change, you and your children may be offered space at another refuge, but you will not usually be able to return to the same refuge once you have left.

Should you be asked to leave because you have broken your licence agreement, we will do our best to help you find alternative accommodation in a safe place, or arrange another refuge for you.

What about my permanent housing situation?

This decision is down to you, with support from refuge staff.

Whether you decide to relocate to your new area, choose somewhere further afield, or return to the area you fled with the correct safety measures put into place, we will be there to support you.

Refuge staff will help you with any housing options and give you all the information you need to make the right decision for you and your family.

We recommend that you don't end your tenancy on your previous property.

Do not sign any documents regarding the ownership of your home until you have taken legal advice.

Can I bring my teenage son with me?

So long as he is under the age of 18, your son will be allowed to come with you into the refuge.

Sadly, we cannot allow pets to stay with you whilst at a refuge, but we do work with an organisation that offers an animal fostering service until the time comes when you're able to rehouse with your pet.

Other than that, maybe you have a family member or a friend that can help you too?

We understand this is difficult. Sometimes our pets have helped us through the most difficult of times, but this is something we have to be strict about for the benefit of all those staying at the refuge.

What will my room be like?

You will have a private room which may include an en-suite bathroom. Some rooms are completely self-contained and have kitchen facilities.

The refuges have communal areas with a kitchen, laundry facilities, sitting room and play area for children.

What happens when I leave a refuge?

When you leave a refuge, you will be supported by our Community Team. There will be a handover period between your Refuge Worker and your Community Worker. That way you won't be alone and hopefully will experience a smooth transition.

Where possible we will help you to move and settle you into your new home.