We offer wide-ranging community outreach services that meet with women and men who are experiencing domestic abuse where they are in the community. We provide support in person, online or over the phone.
You may still be living with your abuser, be planning to leave, or have already left to rebuild your life. Whatever point you are at in your journey to safety, our community workers can offer support to help you and your children keep safe.
The Elm Foundation Community and Outreach service works with women and men who are subject to domestic abuse. Community workers provide support to victims and survivors in various venues across Chesterfield, Bolsover, Amber Valley, and North East Derbyshire. This may be in a client's home or in a neutral, safe venue such as a GP Surgery. Community workers are solution-focused and their person-centred approach means they are flexible to meet the needs of their clients.
The Community Team enables people to access support in their local area. This service is free and confidential and is led by the individual. Community workers support people in one-to-one sessions, group sessions or via the telephone. The support can be short or long term.
Our Community Team support
We offer support so that people who have experienced domestic abuse can live an independent, positive life that's free from abuse. The Community Team offers a non-judgemental, supportive approach to enable individuals experiencing domestic abuse to discuss their available options.
Confidence and self-esteem building
Support to move to a safe place (refuge or another property)
Support to remain safely in their own home
Safety planning
Housing advice
Finance/debt advice
Supporting service users to gain legal representation and court orders
Support around mental health
Support around substance misuse
Providing emotional support
Liaising with other specialist services
Reducing isolation
Providing support for women and men with issues relating to children or parenting
Anything else related to domestic abuse which a woman or man requires support for.
We also hold a number of drop-in sessions and service user groups across Chesterfield, North East Derbyshire, Amber Valley and Bolsover, which provide additional support and enable individuals to meet new people and build on their confidence and self-esteem.
We collaborate with other local "by and for" services to provide inclusive services for more marginalised victims of domestic abuse. This includes links with Derbyshire LGBT+, The Derbyshire Asian Association and Deafinitely Women.
Who can use community outreach services?
All adults who experience, or have recently experienced, domestic abuse can access our outreach services. Whether you are living at home, moving out of a refuge, or already living in a new community, our outreach workers will support you.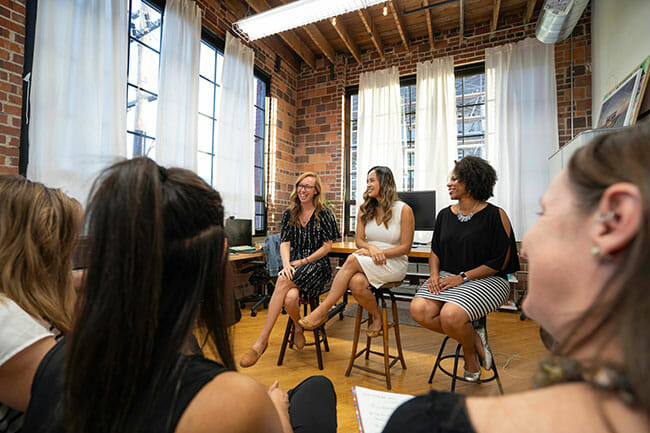 What can community workers help with?
You will have your own community worker, who will tailor support based on your individual needs. The worker will meet with you wherever you feel safe and comfortable.
Safety planning
Contacting the police
Keeping you updated and informed if you are going through a court case
Attending court
Help with injunctions
Improving the safety of child contact
Access to safe housing options
Referrals to other services
Building self-confidence and independence
Welfare rights and legal support
Assistance when applying for grants and loans
Help with budgeting, paying bills and debts
Resettlement skills, such as shopping and cooking
Finding work, paid or unpaid
Access to training or education
Discussing the effects of experiencing domestic abuse